Description
---
Product Description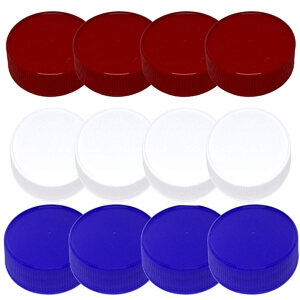 JARMING COLLECTIONS Regular Mouth Mason Jar Storage Lids
Regular Mouth BPA Free Plastic Storage Lids
Regular Mouth Plastic Mason Jar Lids - Set of 12. They are BPA Free Food Safe Reusable Lids. These dishwasher safe lids are specially designed to fit over a sealed Mason Jar lid without disturbing the seal keeping your contents safe and preserved. They come in a variety of colors and are Made in the USA.
Food Safe Storage Lids that keep items fresh longer
These Storage Lids are a perfect fit for your Regular Mouth Mason Jar. You can preserve any canned item or can be used to contain goodies placed in a jar as a gift. Perfect for the person who likes to re-purpose their gift after the goodies are gone.
JARMING COLLECTIONS
Jarming Collections is a Family Owned business established in 2014. We began as a small company in a tight workshop. We now have a warehouse with several employees. Our steady growth was the result of our commitment to only offer quality, reliable products at a great value.
We truly appreciate your business.
Thank you.
JARMING COLLECTIONS Regular Mouth Plastic Storage Lids
REGULAR MOUTH LIDS fit Ball, Kerr or any standard Regular Mouth Mason Jar (70/450)

DISHWASHER SAFE - Reusable and Durable for long time use.

Ideal for baby milk or food. Dry Goods spices crafts, etc.

MADE IN THE USA

12 Pack- Recyclable Storage Lids for Standard Mason Jars (2 5/8 inch wide mouth)
JARMING COLLECTIONS Regular Mouth Plastic Storage Lids
| | | | |
| --- | --- | --- | --- |
| White BPA Free Food Safe Regular Mouth Storage Lids - 12 | Red BPA Free Food Safe Regular Mouth Storage Lids - 12 | Green White & Blue BPA Free Food Safe Regular Mouth Storage Lids - 12 | Blue BPA Free Food Safe Regular Mouth Storage Lids - 12 |